Archives by date
You are browsing the site archives by date.
Position                     Teacher Education Program, Faculty Status                         Teacher Education Program (Secondary Program) Status                         100% full-time, Permanent Start                            April 1, 2014 Review Date              February 28, 2014 Located in the heart of the Fraser Valley, the University of the […]
The  Children's Health Policy Centre (CHPC), Faculty of Health Sciences (FHS), Simon Fraser University (SFU), is seeking to fill four positions for its B.C. Healthy Connections Project. The positions listed below are posted on our website http://childhealthpolicy.ca/about/research-assistant/ Research Coordinator Data Coordinator Senior Research Assistant Research Assistant/Scientific Field Interviewer Please note that these are all NEW positions and […]
The CAGS/UMI Distinguished Dissertation Awards recognize Canadian doctoral dissertations that make unusually significant and original contributions to their academic field. Awards are offered through this spring's competition for dissertations completed and accepted by the Faculty of Graduate Studies between January 1, 2013 and December 31, 2013.  The awards include a $1,500 prize, a Citation Certificate […]
Congratulations to Dr. Lynn Miller, ECPS, co-investigator on a 3-year Operating Grant ($911,632) from CIHR for the project, "Neural Correlates in Childhood-onset Obsessive Compulsive Disorder".
Practicing education professionals and students will come together to share their questions, investigations and understandings about their practice. Call for Proposals is open until March 3.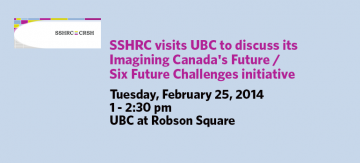 CIRCA Winter Colloquium Series 2014 May 7, 2014 1:00 – 2:30 p.m. Room 310 – 2125 Main Mall Neville Scarfe Building PRESENTER:  Brenda Fossett, PhD, BCBA-D, Instructor, Capilano University. CONTACT:  joanne.oconnor OR pat.mirenda@ubc.ca
CIRCA Winter Colloquium Series 2014 April 16, 2014 1:00 – 2:30 p.m. 2125 Main Mall Room 310 Neville Scarfe Building PRESENTER: Pat Mirenda, Ph.D., BCBA-D, Professor, Faculty of Education, and Director, Centre for Interdisciplinary Research and Collaboration in Autism (CIRCA), University of British Columbia CONTACT:  joanne.oconnor@ubc.ca  OR  pat.mirenda@ubc.ca