Archives by date
You are browsing the site archives by date.
Sponsor: Regional Socio-Economic Development Institute of Canada (RSEDIC)
The purpose of the RSEDIC seed grant is to provide funding to support new areas of regional socio-economic research, and to increase the capacity for regional socio-economic inquiry on campus. Activities undertaken through the seed grant can include for example knowledge syntheses, and/or the collection of pilot data on a new topic.
Value: Grants are for up to a maximum of $3,500 over 6 months. No extensions are available.
Deadlines:
ORE Deadline: April 18, 9 AM
ORS (Okanagan Campus) Deadline: April 18, 4 PM
Notes:
The RSEDIC seed grant is open to all full-time tenure-stream faculty in the professorial stream. The applicant shall have, at the time of application for the funding, a term of appointment spanning the period of funding, or a signed commitment for a term of employment spanning the period of funding.
Sponsor: CIHR
The Project Grant program is designed to capture ideas with the greatest potential to advance health-related knowledge, health research, health care, health systems, and/or health outcomes. It supports projects with a specific purpose and a defined endpoint. The best ideas may stem from new, incremental, innovative, and/or high-risk lines of inquiry or knowledge translation approaches.
Value: Project grant funding levels will be commensurate with need, which is expected to vary by research field, research approach, and scope of project activities.
Deadlines:
CIHR Registration Deadline: May 30, 2017 (Opens May 8, 2017)
ORE Review & Signature Deadline: Contact Heather Frost
ORS Signature Deadline: June 6, 2017
CIHR Application Deadline: June 13, 2017
Sponsor: Michael Smith Foundation for Health Research
These awards will provide funding to support the dissemination and uptake of research evidence to inform and improve further research, practice and policy-making. Awards will help teams of health researchers and research users collaboratively plan and implement dissemination activities, adapting messages and mode of delivery in order to reach audiences who can directly use the information.
Value: Maximum award amount is $10,000, for up to 12 months.
Sponsor Deadline: May 19, 2017

Note:
Each team must have at least one BC research/health professional trainee (e.g. undergraduate, graduate, post-doctoral and/or clinical fellows) as a team member included in a meaningful way to enhance their knowledge translation experience and skills.
Sponsor: Peter Wall Institute for Advanced Studies
International Research Roundtables are aimed at fostering excellence in research, and serving as a catalyst for collaborative research between international scholars and UBC scholars. They will provide scholars, community leaders, artists, policy makers and others the opportunity to explore a theme, create the foundation for innovative research, prompt important advances in science and society, and/or have a significant impact on the discovery of solutions to important problems.
Value: The proposed budget may range from $20,000 to $45,000. The award will support meeting expenses for a Roundtable at the Peter Wall Institute in Vancouver, Canada, for two to five days. Award funds may be used to cover accommodation, meals and travel costs, for up to 20 participants for the duration of the Roundtable.
Deadlines:
ORE review deadline: April 10, 2017
Sponsor deadline: May 1, 2017
Sponsor: Peter Wall Institute for Advanced Studies
The program is designed to harness high-level research to the practical needs of local, national or international community partners. Proposals must demonstrate active participation with a proposed community or end-user partner to achieve its objectives. Local, national or international community partners are eligible co-applicants.
Value: Wall Solutions projects will be funded at a maximum of $50,000 for one year for direct research costs. Two-year projects are eligible but funds are awarded annually. Renewal is dependent on a formal review of progress achieved. Total project budgets over $50,000 per year are acceptable if you are including funding from other sources or partner contributions.
Deadlines:
ORE review deadline: April 10, 2017
Sponsor deadline: May 1, 2017
Notes:
Principal investigators must be full-time UBC faculty at the Professorial Rank in grant/tenure track positions (i.e. Assistant Professor, Associate Professor, Full Professor).
Sponsor: SSHRC
Connection Grants support events and outreach activities geared toward short-term, targeted knowledge mobilization initiatives. These events and activities represent opportunities to exchange knowledge and to engage on research issues of value to those participating.
Value: $7,000 to $25,000 for events, and up to $50,000 for other outreach activities; higher amounts for outreach activities may be considered if well justified. Duration of 1 year.
Deadlines:
ORE Review Deadline: March 27
ORS Deadline: April 25
Sponsor Deadline: May 1
Dr. Jean-Paul Restoule, candidate for Canada Research Chair, will host a research presentation and open meetings with students and faculty April 3 – 4.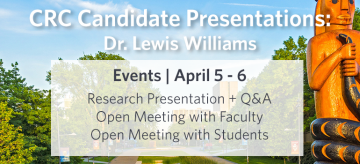 Dr. Lewis Williams, candidate for Canada Research Chair, will host a research presentation and open meetings with students and faculty April 5 – 6.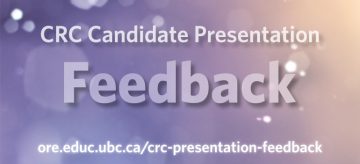 We invite your feedback on candidate research presentations for the David Robitaille Professorship.