Archives by date
You are browsing the site archives by date.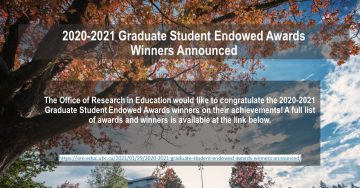 The Office of Research in Education (ORE) would like to congratulate the winners of the 2020-2021 Graduate Student Endowed Awards, a series of UBC endowed scholarships and prizes available to Faculty of Education graduate students who are making the most outstanding contributions in their fields of study. Congratulations on your achievements!   DEAN OF EDUCATION […]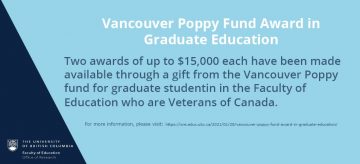 Award Description Two awards of up to $15,000 each have been made available through a gift from the Vancouver Poppy Fund for graduate students in the Faculty of Education who are Veterans of Canada. The awards are made on the recommendation of the Faculty of Education, in consultation with the Faculty of Graduate and Postdoctoral […]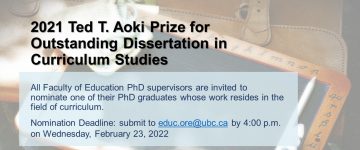 A prize worth approximately $500 has been endowed in honour of the lifetime contributions of Professor Ted T. Aoki to recognize an excellent dissertation in the area of curriculum inquiry written by a doctoral student in the Faculty of Education. All Faculty of Education PhD supervisors are invited to nominate a PhD graduate whose work […]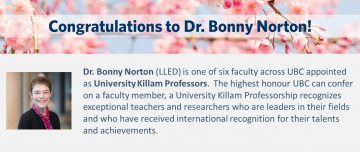 Dr. Bonny Norton (LLED) is one of six faculty across UBC appointed as University Killam Professors.  The highest honour UBC can confer on a faculty member, a University Killam Professorship recognizes exceptional teachers and researchers who are leaders in their fields and who have received international recognition for their talents and achievements.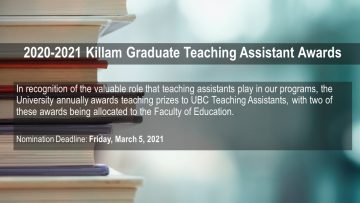 In recognition of the valuable role that teaching assistants play in our programs, the University annually awards teaching prizes to UBC Teaching Assistants, with two of these awards being allocated to the Faculty of Education. The prize includes both a certificate and $1,000.00. Eligibility: The award is open to any Graduate Teaching Assistant who acts […]