All proposed curriculum changes must be approved by the Senate and by the Board of Governors before they can be implemented. This includes:
all new programs
revisions to existing programs
the deletion of existing programs
all new courses
revisions to existing courses (new description, title, contact hours, credit value etc.)
the deletion of existing courses.
All Faculty of Education Graduate Level Curriculum Change Proposals are vetted through the Graduate Curriculum Advisory Committee (GCAC) before they are forwarded to the Faculty of Graduate and Postdoctoral Studies. The approval process within the Faculty of Education is outlined below.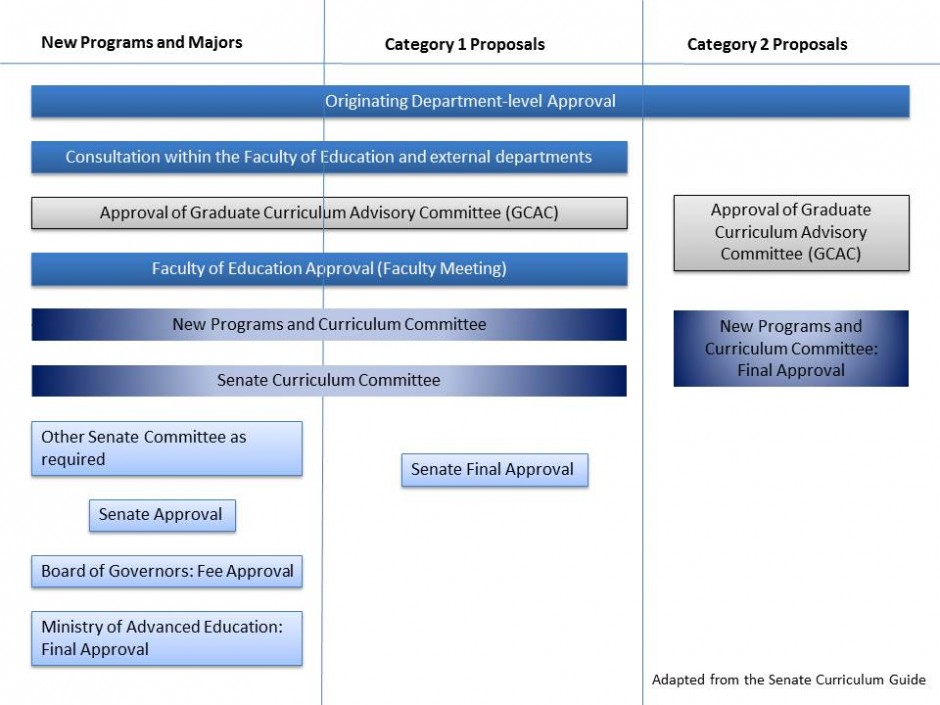 Curriculum Changes
The main categories of changes / type of proposals are:

Category 1 changes: Category 1 changes require consultations with other academic units, the Library and the Strategic Decision Support Office for budget planning. Signatures of approval from each of these units must accompany the Category 1 changes forms. Examples of category 1 can be reviewed on the Senate Curriculum Guide webpages.
Category 2 changes: Category 2 changes include minor changes to the existing courses and programs. Several examples of Category 2 changes can be reviewed on the Senate Curriculum Guide webpages.

New Graduate Degree Programs
New graduate degree programs require University-level approval, including the approval of the Vancouver Senate and Board of Governors, as well as the approval of the Ministry of Advanced Education. Further details of the approval process can be accessed on the Senate Curriculum Guide webpages. At the following link, you will find the flow chart for the New Graduate Program Approval Process: Flow Chart New Grad Program Approval Process
New Certificate / Diploma Programs
All proposals for new certificate / diploma programs are subject to approval by the Senate Curriculum Committee. To review the guidelines for new certificate program approval process, please see Senate Policy on Approval of Certificate Program
Curriculum Guidelines
Curriculum Change Forms
Curriculum Documents